How to Setup IPTV on Any Device 
– For Non -Tech Savvy People 
This detailed guide will show you How to Setup IPTV on any device.
How to Install Downloader on Firestick / Fire tv
1. From the home screen of your device, hover over the Find option.
2. Click Search.
3. Search for and select Downloader.
4. Choose the Downloader app.
5. Click Download.
6. Wait for the app to install.
7. Once the app finishes installing click Open.
How to Get Back Developer Options on FireStick (2023)
This guide applies to the users of all Fire TV Stick devices, including FireStick 4K Max, FireStick Lite, FireStick 4K, as well as Fire TV Cube.
Developer Options is a setting within Fire TV devices that enables the installation of third-party apps from unknown sources.
If you wish to install the apps that are not available on the Amazon Store, you will need this option to enable Apps from Unknown Sources.
The removal has been reported to affect Fire TV OS versions starting from 7.2.8.5.
Please note that the Developer Options continue to show on most of my FireStick / Fire TV devices. This includes the ones that have been updated to version 7.2.8.5.
However, it does not appear on a couple of my devices. I do not know how Amazon decided which devices would be affected.
Nevertheless, thankfully, you can get the Developer Options back quickly and continue installing your favorite third-party streaming apps.
Also, note that the preinstalled apps are not affected by the removal of this option. But you will need it back to install any new apps.
Steps to Get Back Developer Options on Amazon FireStick
Follow these steps to make the Developer Options appear again:
1. Select FireStick Settings
2. Click My Fire TV
3. Click About (only if you DO NOT see Developer Options on this screen).
4. Click on your Fire TV Stick quickly 7 times.
5. You will see a notification at the bottom saying No need, you are already a developer. That's it, you have enabled Developer Options.
6. Press the back button once or go back to Settings > My Fire TV and you will now see Developer Options.
Now you can go into Developer Options and enable Apps from Unknown Sources to sideload APKs on your FireStick device.
Wrapping Up
Developer Options have been removed on certain devices after the rollout of the Fire TV OS update 7.2.8.5. However, you can easily get it back by following the steps provided above and keep installing your favorite streaming apps.
How to Install Downloader on Android TV (2023)
1. Select the Google Play Store from the home screen.
2. Click Search.
3. Type in "downloader" and click Search.
4. Select Downloader by AFTVnews.
5. Click Install.
6. After installation return to the home screen.
Guide for IPTV Related Complaints
A very daily basis problem in using any IPTV is Buffering / Slow Speed / Blank Channels with a Spinning Circle Moving. Below methods will help you fix any IPTV related problem, and its solution of almost 99% all IPTV related complaints on daily basis for example: Black Screen, Spinning Circle, Buffering / Freezing, EPG not Working, Movies not Working etc. Technically the app should auto update the media content however sometimes the device don't let the app to update the media – the best practice is to always update the media content manually before streaming the channels.
How to Update Media Content:
1. Return to the home screen of your IPTV App.
2. On the Top Right Corner, there's a Button "Update".
3. Hit the Button Once and let the Media Content update itself.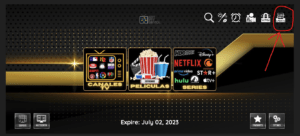 Our 2nd App